I should tell you that I love using templates to create my layouts. In fact in a way I always start with templates. I either pick one from another designer or I create my own template at the beginning of the layout. When I do this I will figure out what pictures I want to use. Then I will open a blank canvas and start creating a template that incorporates that many pictures in a way that will really work for my photos. Then I add shapes for the papers and elements. Only then do I start adding my actual pictures and papers/elements from the kit. I think it is my left brain nature that likes to design in basic black and white and gray shapes first and then add the "artsy" things. I feel like I can just see the layout design better if I template it first.
So I have polished up a couple of my rough templates from some of my favorite layouts and I want to share them with you today. You are getting a bonus of two templates in this pack since they work together so well. :)
Here are the layouts that inspired them:
Credits: Little Black Dress by WM[squared] and Dream Big Designs, font is Sylfaen
Credits: Best Furry Friend Collab by Find Your Bliss Designs and Sugar Fancy Designs, font is Elicia by Darcy Baldwin
And here are the templates for you. I hope that you enjoy them. :)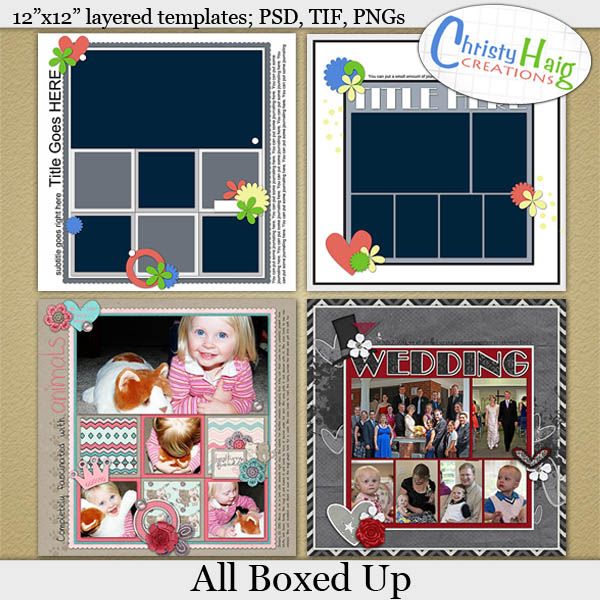 **DOWNLOAD EXPIRED**
And to show you a bit of how fun and versatile templates can be, I liked them so much that I did a second layout using one of them. Since it was a different theme and totally different kit type, I love how the layout came out looking completely different even though I didn't rotate it or change it much.
At the playground and Olphelia Scribbles font by WM[squared]
Have fun with them and if you download them I'd love to hear from you in the comments or see your layouts in the galleries!